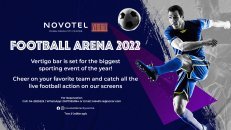 FOOTBALL ARENA 2022
Vertigo Bar is set for the biggest sporting event of the year!
Cheer on your favorite team and catch all the live football action on our screens
Vertigo Bar at Novotel Dubai Deira City Centre is all geared up to screen all the football action of the biggest and most awaited sporting event of the year. Vertigo will be serving savory comfort food along with a range of alcoholic and non-alcoholic beverages to bring the football arena experience. The screening of the football matches will be starting from 20th November 2022 with the first group stage match between the hosts Qatar and Ecuador, ending it with the final on 18th December 2022.
Don't miss out on experiencing a special football atmosphere along with exciting raffle draw and competitions from 20th November to 18th December 2022 at La Fabrique Sports Bar in Pullman Dubai Creek City Centre
Follow Novotel Dubai Deira City Centre Social Media pages (Facebook or Instagram) and get a chance to win amazing prizes!
For reservation: Call 04-292-5225 / WhatsApp: 0507335094 or email: H6481-re@accor.com
League matches, 20th November – 2nd December 2022
AED 75 minimum spend per match, 2pm,5pm, 8pm & 11pm
Round of 16, 3rd December – 6th December 2022
AED 100 minimum per match, 8pm & 11pm
Quarter Finals, 9th December & 10th December 2022
AED 100 minimum spend per match, 8pm & 11pm
Semi-Finals, 13th December & 14th December 2022
AED 150 minimum spend per match, 11pm
3rd place, 17th December 2022
AED 100 minimum spend per match, 8pm
Finals, 18th December 2022
AED 250 minimum spend per match, 8pm & 11pm | AED 150 redeemable towards food and beverage
Terms and Conditions:
Minimum spend is applicable per match
Minimum spend will apply before 2 hours of each match